Thermal burn injuries cause around 5,900 hospitalisations and 100 deaths every year in Australia. Understanding how to provide first aid for burns can help improve outcomes, reduce the risk of infection and may even save a life.
Assessing the seriousness of a burn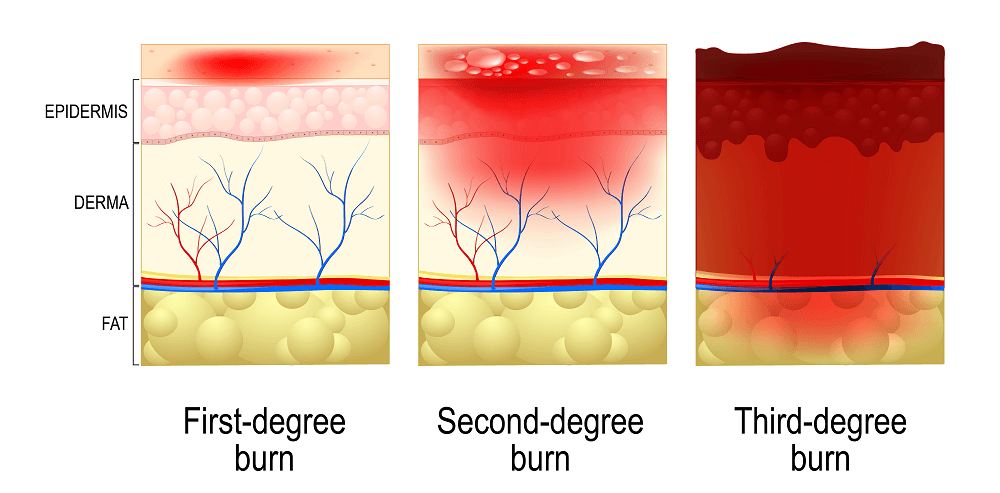 Burns are usually classified into three levels:
Superficial (First degree burns)
Superficial burns cause harm to the top layer of skin only. They may feel painful and the skin around the burn site may be red.
Partial thickness (Second degree burns)
Partial thickness burns cause damage to the first and second layers of skin. The burn site may be red and swollen with some blistering. There may also be fluid leaking from the injury.
Full thickness (Third degree burns)
Full thickness burns cause damage to the first and second layers of skin and the underlying tissues as well. The burn injury will typically appear black or there may be some white fatty tissue exposed.
There may be no pain at the site of a full thickness burn if the nerve ends have been damaged, however surrounding areas of skin may feel very painful.
Major burns
Burns that affect more than 20 percent of an adult's body or more than 10 percent of a child's body are classified as major burns, no matter what depth the burns are.
Major burns require urgent medical attention and 000 should be called as soon as possible if someone has suffered major burns.
How to perform first aid for burns
The following steps can be used for most burn emergencies:

Step 1. Remove the person from danger
Assess the situation and move the person away from danger.
If the burn is electrical, turn off the mains power. For chemical burns, remove contaminated clothing.
If the person is on fire, put out the fire by using the stop, drop and roll method and a wet towel or blanket.
Step 2. Remove clothing and jewellery
You should remove burnt clothing and jewellery away from the burned area as long as it does not stick to the burn. Don't attempt to remove clothing that is stuck to the burn injury.
Step 3. Put the burn under cool running water
Place the burn area under cool running water as soon as possible and leave it there for 20 minutes.
Do not use ice or ointments, and do not place a child with a burn into a bath of cold water.
Step 4. Cover the burn
Use cling film or a clean cloth to loosely cover the burn. Do not use a fluffy material that may stick to the burn injury.
Step 5. Seek medical advice
Some superficial small burns may not require further treatment, however you should seek medical help if:
The hands, face or groin is affected
The wound is deep or bigger than a 20c coin
Chemicals or electricity caused the burn
You notice infection
You should call 000 for emergency medical care if:
The burned area covers more than 20 percent of an adult's body or more than 10 percent for young children.
What not to do when treating a burn
When applying first aid for burns:
Do not use ice or creams to cool the burn
Do not use adhesive dressings directly on the wound
Do not place children into a cold bath
Don't use ointments or aloe vera unless advised to
Avoid over cooling the wound (stick to 20 minutes under cool water)
Types and causes of burns
Some of the common causes of burns include:
Scalds
Scalds are caused by steam or hot liquids, including hot drinks, steam from kettles and cooking pots, and hot water from kitchen and bathroom taps.
Minor scalds can be treated at home with cool water and appropriate ointments, but if the wound is deep, wide or blistering, prompt medical attention is required.
Sunburn
Mild sunburns can be treated with moisturisers and cold compresses at home, but serious sunburns may need medical attention, especially if there is blistering. Do not pop blisters – they should be covered with an appropriate wound dressing.
Chemical burns
Chemical burns can be caused by substances such as bleach, petrol, drain cleaners and pool chlorinators.
You should remove any contaminated clothing unless it is stuck to the wound. Be careful not to spread the chemical to other parts of the body or other people when doing so.
The chemical should be washed off the skin with running water for at least 20 minutes and up to 60 minutes. A cool shower is ideal.
Electrical burns
Visually assess the area for danger, but do not touch the person until the electricity has been switched off.
If the person has experienced an electrical shock and is not breathing, start CPR immediately and call 000.
You can treat electrical burns like other thermal burns by running the burn area under water for 20 minutes.
How to dress an open burn wound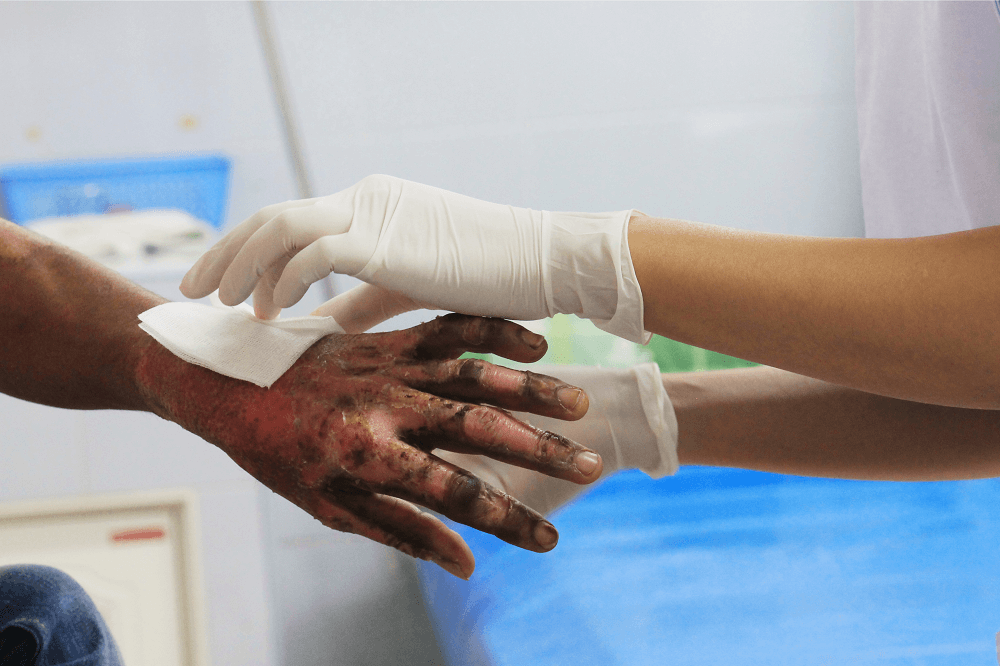 Many superficial wounds that affect the top layer of skin don't require a dressing. An appropriate moisturiser may be used to cool the burn.
If the burn is deeper than the first layer of skin or is blistering, it may require a dressing to help absorb fluid and prevent infection.
When dressing a burn wound, medical personnel may:
Clean the wound using sterile water.
Use antibiotic ointments and creams to prevent infection.
Choose dressings based on the location of the wound and how much fluid is present.
Use dressings in layers, for example a wet gauze followed by a dry gauze and a bandage.
Change the dressing regularly.
Use a different type of dressing as healing progresses or if infection occurs.
Be prepared with burn treatment supplies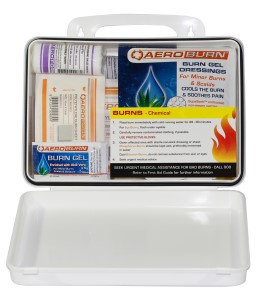 Whether you are a first responder or in charge of health and safety at your school or workplace, it's important to be prepared for any emergency – including knowing how to provide first aid for burns. Having the necessary school first aid supplies is an important first step.
Order burn treatment supplies and Aero healthcare supplies online today with LFA First Response. We have a large range of high quality products with great lead times and unbeatable shelf life.
Browse our range of burns treatments or call our friendly customer service team on 1800 681 544 to discuss your needs.